Semi-Auto Wood Pallet Block Production Line
As indicated in their names, the different level of automation tells apart the semi-auto wood pallet block production line from the automatic wood pallet production line. In the automatic line, automatic conveyors are be applied to convey materials between each two steps in production process. But within the semi-auto line, no automatic conveyors are equipped so that the materials have to be transported manually.
The main equipment of this production line is the wood pallet block machine which is provided with three different types according to the capacity: single-head, double-head, triple-head.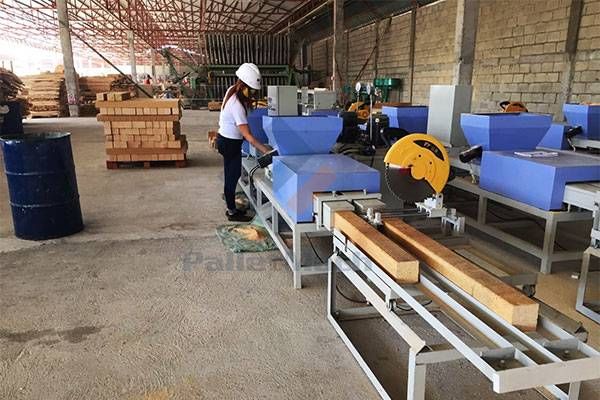 Semi-Auto Wood Pallet Block Production Line
Production Mode
Semi automated: within the semi-auto production line, parts of the process would be completed by workers like manually conveying and feeding materials, glue mixing, and block cutting. We can customize automation level of production line according to customer's specific demands.
Surely, we provide fully automated wood pallet block production line as well. You can find information about automatic production line here.
Main Machines of Semi-Auto Wood Pallet Block Production Line
Wood chipping machine, wood crushing machine, drying machine, glue mixing machine, wood pallet bock machine, wood pallet block cutting machine
Process of Semi-Auto Wood Pallet Block Production Line

Features of Semi-Auto Wood Pallet Block Production Line
Cost saving and profitable. By reusing waste wood efficiently, this production line saves cost and brings big profits.
Environmentally friendly. It reduces carbon emission and provides an practical way to recycle wood waste into valuable products.
High quality pallet block. The density of the block could reach up to 550-1000kg/m3, and the loading capacity can reach up 1-3 tons.
Flexible block size. The specifications of block can be adjusted according to specific demands within the range from 75mm to 145mm like normally 90*90mm, 90*100mm, 100*100mm, and 80*90 mm.
Non-fumigation. The pallet block is made under high temperature so it is unnecessary for fumigation.
Get Support & Quotation