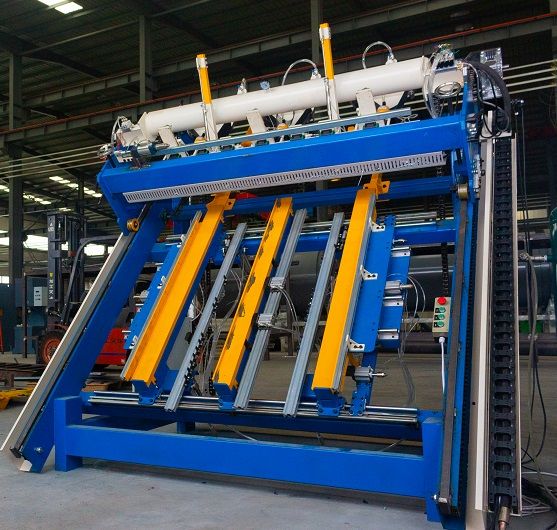 Pallet Nailing Machine
1. automatic nailing
2. automatic stacking
3. Used for American and European standard pallet
Pallet nailing machine is designed to produce American standard pallets, European standard pallet, and customized pallets.
Auto pallet nailing machine is equipped with the finished pallet reversing and picking device, which has high automation degree, smooth and tight process flow, and can be equipped with automatic pallet stacking machine and one-stop nailing and stacking production.
Auto pallet nailing machine adopts fully automatic program, and the operating system adopts imported PLC control, the touch screen is simple to operate, with convenient control, and accurate nailing position. Compared with the domestic conventional production process, auto pallet nailing machine is with multiple processes are completed at one time, which greatly improves the work efficiency.
Technical parameters
Model
PM-TPJ-1300MD
Capacity
1-2 pallets/minute
Motor power
1.5 kW servo motor
Air pressure
0.8 MPa
Voltage
Customized service is available.
Weight
2000 kg
Overall dimensions
The host 2000*2800*2600 mm
Stacking 2600*1900*1600 mm
Auto Pallet Stacking Machine
Automatic pallet stacking machine is equipped with an automatic lifting device for the pallet. The automatic display function is provided on the display interface of auto pallet nailing machine. The conventional storage can store 2 stacks of pallets and 16 pallets per stack.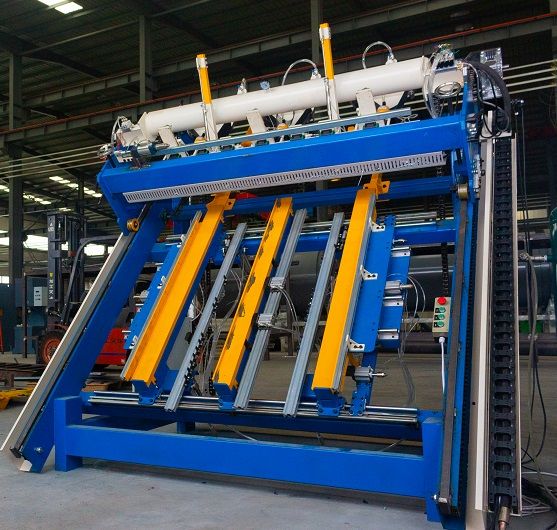 Automatic nailing and stacking are connected into the whole production line. After the nailing process is completed, the finished wooden pallets are automatically flipped onto the stacking platform by flipped workpiece and stacked neatly.
So that it can achieve the effect of automatic receiving, which is convenient for forklift transportation; at same time, saving the time of the nailing machine and the stacking operation. On account of the workpieces do not need to be stacked and rotated, and directly flipped into the lifting platform. It not only reduces the labor intensity, but also reduces time and space for handling.
Pallet stacking machine conveyor platform + corner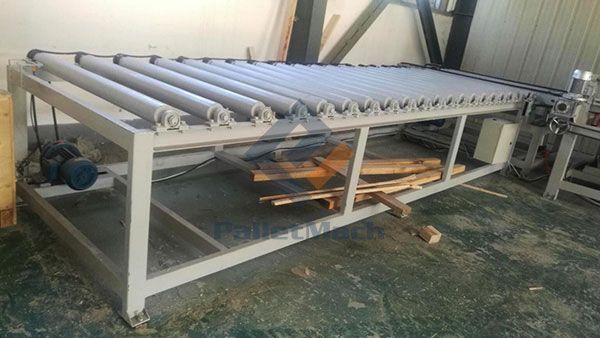 It is equipped in the automatic nailing machine of wooden pallet, which can save space and improve work efficiency.
Auto pallet nailing machine is equipped with automatic pallet automatic corner conveying, which can be transported out from pallet stacking machine and can store 4 stacks of nearly 100 pallets to save space.
Get Support & Quotation