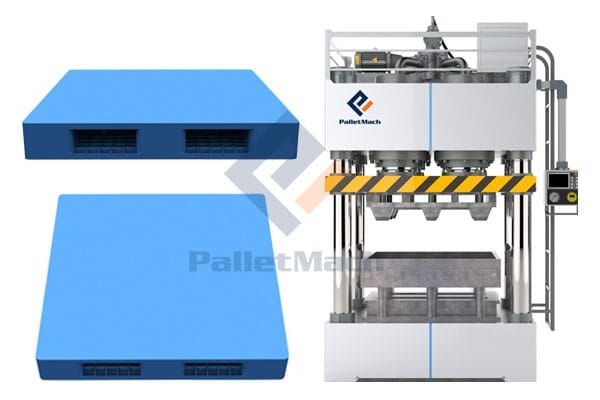 Plastic Pallet Moulding Machine
1. Waste plastic recycle
2. Lower cost than injection molding equipment
3. Custom molds for easier replacement
Plastic pallet moulding machine also called plastic pallet machine, plastic pallet making machine, is a new type of one time forming machine producing plastic pallets.
PalletMach provide a new type waste plastic recycling solution,which is use it to produce molded plastic pallet,the cost is low and environmental protection,if you are interested in our molded plastic pallet machine,please feel free to contact us,we can customize different solution for you according your plastic materials.
Overview
Raw materials suitable for this machine can be waste plastic, PP, PE, PVC and so on.
The plastic pallet can be used for packing and also for stock storage as bearers, and plastic pallet is environmental friendly.
The compressed plastic pallet moulding machine is the very good equipment for plastic recycling.
Features
"Three beam four column" structure is the core competitive of our press technology. Under years' tests and feedbacks from client, we upgrade it deeply and realize the following features:
Less than 0.1 mm error on forming mold.
Detachable connection makes it easier to change molds, do maintenance and transportation.
Top motor and suspension structure saves occupied space and improve security.
Plastic pallet making machine model parameters
Model
PM-1000
Pressure
0-1000 tons (adjustable)
Hydraulic oil cylinder quantity
2 pieces
Shaping cycle
120 seconds
Capacity
1 pcs/ 3 minutes
Power
43.6 kW
Weight
30 tons
*All specifications and operating instructions accord to OSHA Standard.
*Mold and cylinder system are controlled by PLC programming.
*Note: for running the machine, it need 600L Hydraulic oil before start.
Our Advantages
1. Advanced technology
We update the traditional pallet making machine and independently produce the plastic pallet making machine. This production line adopts new technology to reduce the cost of raw materials.
2. Environmental protection
Plastic pallet machine is the ideal machine to recycle waste plastic. And plastic pallet making machine is changing the waste plastic into plastic pallet, so it helps to protect the environment.
3. High degree of automation
There is no manual operation in the process, which realizes the automatic control with long-term, stable, effective. It also makes pallet making process more stable, and realizes fine work of production.
4. Low production cost
The price of the raw materials is less than 50%, so the production cost is also lower than 50%. In addition, the technology process of plastic pallet making line is easier, and easy to operate.
5. Good final pallet
The quality of final plastic pallets is as good as the traditional ones. Meanwhile, the final pallets are one-piece design, which are saving space 60% than the traditional ones.

Designed and manufactured by Shanghai Pallet Machinery Co., Ltd, professional plasitc pallet moulding machine manufacturer. Thanks for your contact. We will make an optimal solution under comprehensive consideration.
Get Support & Quotation