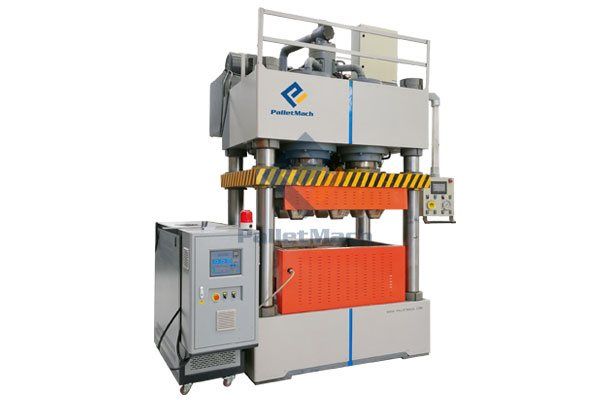 Single Mould Wood Pallet Machine
1. Stable Structure
2. Wood Waste Recycle
3. Fully Automatic Production
Introduction of single mould wood pallet machine:
Single mould wood pallet machine is a new type of one time forming machine. It is also called wood pallet machine, wood pallet molding machine.
Single mould wood pallet machine meets the requirement of environmental protection, which can help to recycle raw materials, such as wood chips, waste wood pallets, waste wood, timbers, kraft paper, straw, bamboo, even if plastic etc.
Single mould wood pallet machine can help solve the problem of the environment and also make profits
Raw materials:
Waste wood, scrap of the wood, sawdust wood chips, wood shaving, wood chips, big chips, raw wood, burned forest, logs, wood board, branches, timber, wood flakes, and waste pallets, and so on.
Containing rich fiber also can be used to produce the pallets, such as straw, waste kraft paper, bamboo, palm trees, coconut, softwood, wheat straw, bagasse, and miscanthus, and so on.
Raw materials for single mould wood pallet machine are spreading all over the world, which lower the investment of wood pallet machine.
Features of final pressed wood pallet:
Low moisture content and constant intensity and rigidity. Wood pallet is non-hygroscopic and no deformation in the course.
Stable dimension and no distortion and warping.
High precision size and light weight. It is specifically designed reinforcing rib that ensures the intensity and production accuracy.
Free fumigation and popular in the import and export transportation.
Technology parameters of single mould wood pallet machine:
Single Mould Wood Pallet Machine
Model
PM-1000
PM-1200
Voltage
220 V/380 V, 50 Hz, three-phase
220 V/380 V, 50 Hz, three-phase
Capacity
324 pcs/day (24 hours)
324 pcs/day (24 hours)
Power
18.5 kW
18.5 kW
Hydraulic cylinder diameter
350 mm
380 mm
Hydraulic cylinder quantity
4 pieces
4 pieces
Pressure
0-1000 t (adjustable)
0-1200 t (adjustable)
Shaping cycle
160 seconds
160 seconds
Weight
22 tons
22 tons
Dimension
2000*1400*3500 mm
2000*1400*3500 mm
Get Support & Quotation