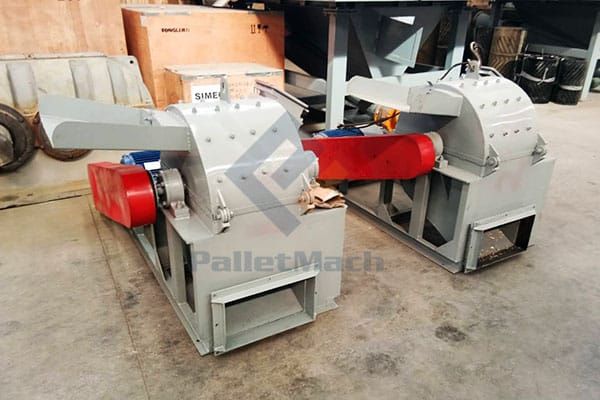 Wood Crusher
1. Power: 15~45 kW
2. Capacity: 0.5~5 t/h
3. Cutter head diameter: 610~1000 mm
4. Weight: 320~1000 kg
Wood crusher, also called wood crushing machine, is the ideal equipment for producing various types of wood products. Wood pallets and compressed wood pallet production line also need wood crusher. Wood crushing machine is used in a wide variety of applications for recycling wood waste, to preparing wood for presswood pallet.
Why need wood crusher?
Wood crushing process plays an important role in crushing raw materials for complete pallet line. But there is one thing to point out is that before starting operation you should have a clear understanding about the material size. Then you can choose the most suitable machine for your processing. According to different material size, we can provide for the clients with different models of wood crushing machine.
What materials can be crushed?
Wood crusher can process various raw materials, but there is also a standard about the size. Generally speaking, it can crush tree branches and stems with the diameter of 140 mm-300 mm. Many fiber stalk like bamboow, couch grass, corn and sorghum stalks are also common materials. The crushed materials are particles and with diameter of about 3-5 mm.
Application
Wood crusher is the perfect equipment for pressed wood pallet production line, and is widely used in paper plants, particle board plants, fiber broad plants, wood processing plant, wood working industry.
wood crushing machine features
Fine crush. 85% of the output size is within 3 mm.
High-efficient and energy-saving. Power is saving 40% of equivalent output.
Long service life. The whole machine is made by quality material to prolong the service life.
Good crushing ratio. The crushing ratio is up to 90%.
Easy maintenance. The rear cover of the upper machine frame can be hydraulically (hand)-opened to make the maintenance much easier.
Widely applicable of raw materials. Wood crusher can process a lot of raw materials, so it is wide used in particleboard, medium and high density fiberboard factory and other wood industries.
Wood crushing machine has 2 feeding ports, one for small raw material like branches and the other for big materials like boards and logs.
Wood crusher can separate the nails from old woods.
Wood crusher model parameter
| | | | |
| --- | --- | --- | --- |
| Model | PMWC600 | PMWC800 | PMWC1000 |
| Cutter head diameter (mm) | 610 | 750 | 1000 |
| Cutter numbers (mm) | 4 | 8 | 8 |
| Cutter diameter (mm) | 150*70*8 | 150*100*10 | 150*100*10 |
| Diameter of inlet (mm) | 190*150 | 140*220 | 220*300 |
| Rotary speed (r/h) | 600 | 560 | 1200 |
| Power (kW) | 15 | 30 | 45 |
| Dimension (mm) | 980*880*950 | 1750*800*1100 | 2000*1500*1200 |
| Capacity (t/h) | 0.5-1 | 1.5-2 | 3-4 |
| Weight (kg) | 320 | 500 | 1000 |
Get Support & Quotation