Semi-Auto Presswood Pallet Production Line
As indicated, the difference between automatic presswood pallet production line and semi-auto presswood pallet production line lies in the automation level within production line. In the automatic line, automatic conveyors are be applied to convey materials between each two steps in production process. By the end of the production process, final pallets could be automatically stacked up for storage or transportation. But within the semi-auto line, no automatic conveyors are equipped so that the materials have to be transported manually, and the final pallet would be taken and stacked up with hands.
Pressed wood pallet production line is mainly designed for producing presswood pallet by compression molding with raw materials of wood sawdust, wood shaving, wood chips, straw, coconut fiber (coir) and other fibers.
Raw materials: waste wood, sawdust, wood chips, wood shavings, raw wood, burned wood, logs, wood board, tree branches, timber, wood planks, waste pallets and so on. Other materials containing rich fiber also can be used for production of pressed wood pallet, such as straw (wheat/corn), waste paper, bamboo, palm trees, coconut fiber (coir), softwood, bagasse, miscanthus and so on.
Final product: pressed wood pallet; presswood pallet; compressed wood pallet;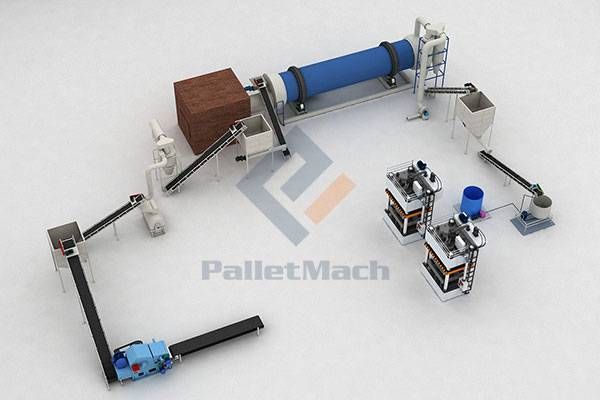 Semi-Auto Presswood Pallet Production Line
Production Mode
Semi automated: within the semi-auto production line, parts of the process would be completed by workers like manually conveying and feeding materials, and glue mixing. We can customize automation level of production line according to customer's specific demands.
Surely, we provide fully automated pressed wood pallet production line as well. You can find information about automatic production line here.
Main Machines of Semi-auto Presswood Pallet Production Line
Wood chipping machine, wood crushing machine, drying machine, glue mixing machine, presswood pallet machine, mold temperature controller
Process of Presswood Pallet Production

Advantages of Pressed Wood Pallet Production Line
High efficiency
The production line with one compression molding machine can produce 180 pieces of pressed wood pallet each hour by adopting automatic material spreading, automatic hot pressing, automatic push-out and automatic stacking.
Cost saving
This production line can significantly decrease the cost of raw materials by using waste wood, wood sawdust, wood shaving, wood chips, straw, coconut fiber (coir) and other fibers.
Wide range of application
By simply changing the compression molding, pallets in varied shapes/sizes could be produced.
High quality of final product pallet
The pressed wood pallet is of high quality with smooth surface, high loading capacity, good performance in water proof resistance and non-fumigation.
Environmentally friendly and energy saving
The heat source of this production line can be supplied in multiple ways. The energy consumption is low. It is an ideal option to recycle wood waste in an environmentally friendly way.
Worldwide recognition
This production line has been widely accepted by our clients in France, Finland, Spain, Greece, Turkey, Tunisia, Romania, Dubai, Ukraine, Mexico, Chile, Argentina, Peru, South Africa, Philippines, India, and Indonesia, and other countries and regions. If you want to visit their production sites, please contact us.
Get Support & Quotation