Take 10% off for all products from PalletMach during Christmas
All machines are sold 10% off from PalletMach during Christmas. The latest sales promotion from PalletMach, and it is the good news for the new and existing customers. It is the Christmas sales. Only do from November 21, 2017 through January 3, 2018, these prices run. If you are interested in our products, please send email to us sales@palletmach.com as soon as possible.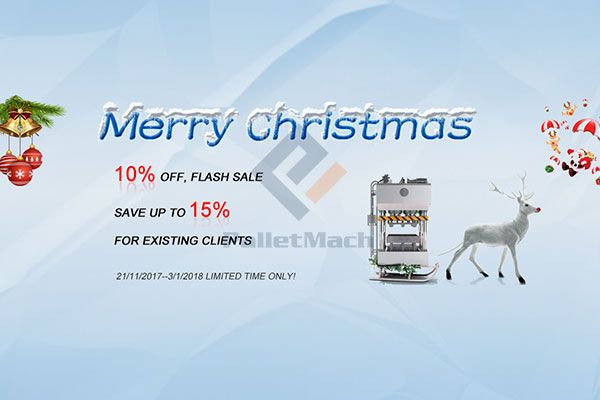 The following is the discount information:
Dates: 21/11/2017—3/1/2018
10% OFF: all products, such as wood pallet making machine, plastic pallet pressing machine, compressed wood pallet machine, pallet block machine, sawdust pallet blocks machine, and so on.
15% OFF: this is for the existing clients. Our existing clients can get a 15% discount if they order the productions during Christmas.
Alibaba website: https://palletmachine.en.alibaba.com
More information, please contact us.
Shanghai Pallet Machinery Co., Ltd
Contact: 0086 18521590671
Web: https://www.palletmach.com/
Email: sales@palletmach.com
Get Support & Quotation