Thai Customers Visited Double-Head Pallet Block Machine
The customers from Thailand visited PalletMach double-head pallet block machine on 12nd, September, 2018.
Thai customers are satisfied with the performance of the double-head pallet block machine after testing. And they also spoke highly of the working conditions, and the machine construction. We had discussed with the customer on the whole project of block pallets. We hope to reach an agreement with customers as soon as possible. What's more, both of us expect to achieve win-win cooperation.
Block pallets are more and more popular all over the world. Not merely because the features of block pallets, but also pallet blocks are made of waste wood. And double-head pallet block machine can turn wood shavings and sawdust into pallet blocks. At the same time, it is the ideal equipment for recycling wood waste. So double-head pallet block machine can help to protect our environment. Double-head pallet block machine meets the needs of all block pallets.
1. High durability.
The raw materials of pallet block machine are all the durable materials, to minimize maintenance of pallet block machine. The whole pallet block machine is integrated with inductive switch, which doubles the strength, stability and precision.
2. High precision.
Double-head pallet block machine adopts more reasonable structure. The whole hydraulic system assures the precision of moulds and the stability of pressing during the working of press block machine.
3. High capacity.
The capacity of double-head pallet block machine is much higher than the single one's, and it is more economical of large capacity. Meanwhile, the capacity can up to 6 m3 24 hours.
4. High automation.
Double-head pallet block machine can achieve all the process automatically controlled by PLC system. In addition, all the production data can record and recall any time. Just one button, the whole process can work automatically.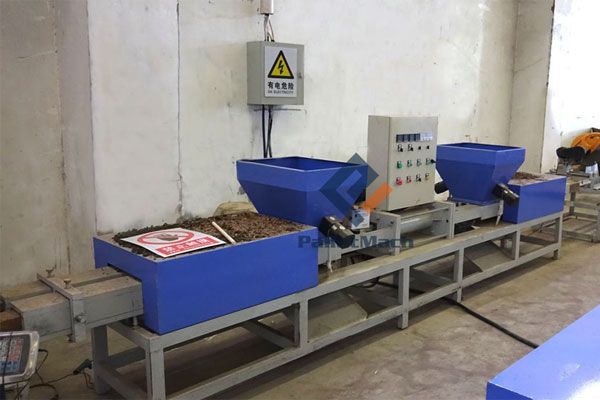 Thanks for our Thai customer's trust and support. And PalletMach hopes to go further with the support of more customers. What's more, we also wish that all customers can get more benefits from pallet block business.
We earn good reputation and attract a lot of customers to visit our pallet block machine plant. As always, we are looking forward to the visits of the customers at home and abroad.
If you have any question, please email us sales@palletmach.com.
Get Support & Quotation