Spot Wood Pallet Making Machine For Sale
PalletMach has one set of spot wood pallet making machine for sale. And the spot price of wooden pallet pressing machine is cheaper than other machines. The clients can get a 10% discount. The following is the detail.
The size of the mold: 1000*1200 mm
Delivery: 20 workdays
Warranty: 1 year
Price: 10% OFF of the ex-factory price and 15% OFF for the existing clients
In addition, all the spare parts are free, and the client just pays freight only. The installation is also free. At the same time, PalletMach also provide the client with free maintenance annually.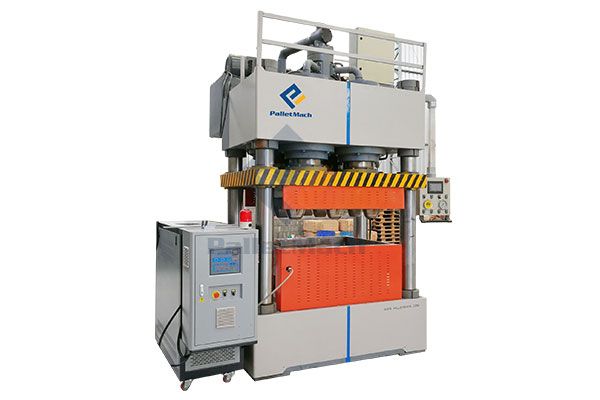 Benefits of PalletMach wooden pallet pressing machine
1. Stable structure.
PalletMach wooden pallet pressing machine adopts three-beam four- column with good strength, rigidity and precision retaining ability. The structural stability is increasing 75% than the former generation. And it solves the problem of the frame deformation thoroughly.
2. High precision.
The forming precision is increasing 50%, which avoids the rough and sharp edge and saves grinding labor cost.
3. Longer service life.
The service life of wooden pallet pressing machine is longer 80%, so creating much value for next 10 year.
4. Automatic control.
One start to produce one pallet, which avoids harm to main press machine and burn damage to pallet surface.
5. Low cost and proper investment.
Presswood pallet machine from PalletMach engages simple process flow and high efficiency. In addition, the raw materials of the machine are easy to get, which low the production cost. A lot of raw materials can be produced into presswood pallet. They are anything contains wood fiber, such as wood chips, logs, timbers, wood shavings, waste wood, waste pallet, straw, and so on. The raw material price is lower than the traditional pallet machine.
More information, you can email us.
Shanghai Pallet Machinery Co., Ltd
Contact: 0086 18521590671
Web: https://www.palletmach.com/
Email: sales@palletmach.com
Get Support & Quotation