Italian Client Visited Pressed Wood Pallet Machine Factory
Italian client visited PalletMach pressed wood pallet machine factory on 8th November, 2018. And he had a nice visit and a good day.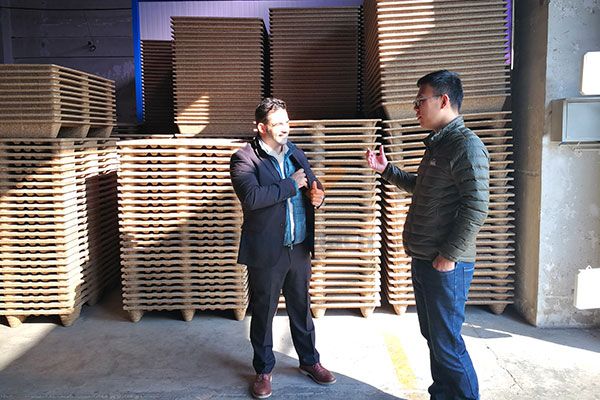 The company of Italian clients wants to invest the new pressed wood pallet factory in Mexico. Besides, they also want to build their own pressed wood pallet for themselves. And their company produces and sells wooden cases to Mexico and Italy. But they transport wooden cases by the traditional wooden pallets before. Now, they want to produce pressed wood pallet using the leftover wood materials. The size of pressed wood pallet is 1200*1000 mm, and the dynamic load capacity is 1 ton. So raw materials are sufficient for them to be produced pressed wood pallet.
The Italian customer is satisfied with the performance of pressed wood pallet machines after testing them. And he also spoke highly of the working conditions, and the equipment construction. Meanwhile, we also introduced pressed wood pallet machines to our Italian client in detail.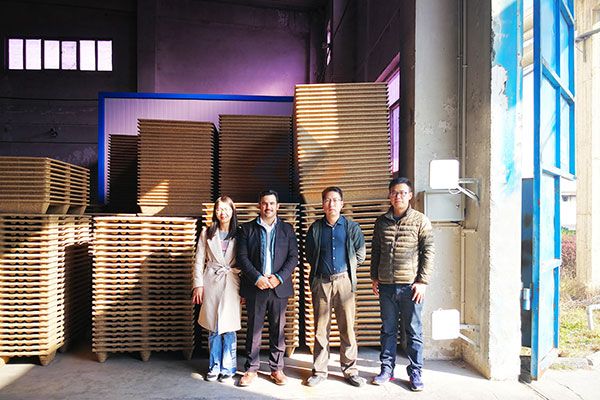 Currently we are still discussing with the customer on pressed wood pallet machines. And the Italian client is very professional, he recorded every details of the questions we discussed. What's more, he had been back work to Mexico. But the project of pressed wood pallet production is in progress.
Pressed wood pallets are more and more popular in logistics and warehouse industries all over the world. Not merely because the features of pressed wood pallets, but they are made of waste wood. The following is the features of molded wood pallets.
1. Environment-friendly.
The raw materials of molded wood pallets are waste wood, crap of the wood, sawdust wood chips, wood shaving, wood chips, big chips, raw wood, burned forest, logs, wood board, branches, timber, wood flakes, and waste pallets, and so on. The final molded wood pallets are molded pallet without nails, and they are reused and recycled. Besides, they do not poison the environment when they are broken. Additionally, the broken pallets are also the raw materials for the new pallets. Hence, it also meets the circular economy. Moreover, molded wood pallet making equipment is the ideal equipment for wood recycling.
2. Space saving.
Molded wood pallets are nestable and stackable with a space saving ratio of 4-1. For example, the height of 20 pieces of pressed nestable pallets is about 0.75 meter. However, the height of 20 pieces of traditional wooden pallets is 2.7 meters. So they can save space greatly in the warehouse and in transportation.
PalletMach is the leading manufacturer of pressed wood pallet machines in China. And our clients are from Italy, Mexico, Russia, Ukraine, Brazil, France, Finland, Poland, Greece, Romania, Tunisia, South Africa, and so on.
PalletMach is eagerly awaiting your visit and cooperation. If you have any question, please contact us via email sales@palletmach.com.
Get Support & Quotation