Holiday Notice of International Workers Day 2019
Dear Customers,
Thank you for visiting PalletMach website.
It is kindly informed that our company is scheduled for the 4 days holidays. And the holidays are from Wednesday, May 1st, 2019 to Saturday, May 4th, 2019 for International Workers' Day or May Day.
We will be back to work on May 5th, 2019 (Sunday). And we also work on April 28th, 2019. Sorry for anything inconvenient to you. Please feel free to contact us via [email protected] or +86 18521590671, if you have something urgent to get the answer.
You may submit your inquiry through the online inquiry forms.
We will respond to you as soon as possible.
We apologize for the inconvenience this may take and thank you for your understanding.
PalletMach wishes you and your families all the best and happy every day!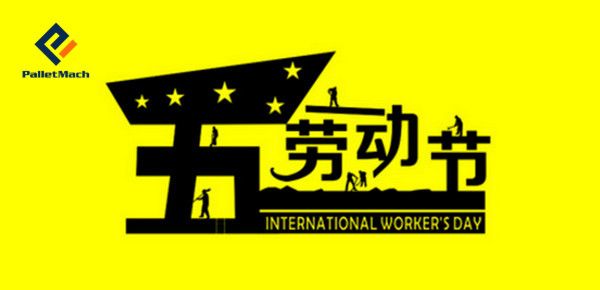 International Workers' Day, also known as Labor Day or Workers' Day in some countries and often referred to as May Day, is a celebration of laborers and the working classes that is promoted by the international labor movement which occurs every year on May Day (May 1), an ancient European spring festival.
May 1 is a statutory holiday in the People's Republic of China. Prior to 2008, it was a three-day holiday, but is now just the one day. However, it is usually supplemented by two other days to give the appearance of a three-day holiday, but not being statutory holidays the extra days have to be "made up" by working either the preceding or following weekend. For example, in 2019, May 1 falls on Wednesday. Most workplaces, including all government offices, take Wednesday, May 1, Thursday, May 2, Friday, May 3 and Saturday, May 4 off. As the middle days (May 2 and May 3) are not statutory holidays we have to be "made up" by working the preceding weekend (April 28) and the next weekend (May 5).
Have a nice holiday!
Get Support & Quotation