Holiday Notice of Spring Festival 2020
Dear customers,
Thank you for visiting PalletMach website.
It is kindly informed that our company is scheduled for 10 days' holidays. And the holidays are from January 21st, 2020 (Tuesday) to January 30th, 2020 (Thursday) for Chinese New Year Holiday.
We will be back to work on January 31st, 2020 (Friday). Sorry for anything inconvenient to you. Please feel free to contact us via
sales@palletmach.com
or +86 18521590671, if you have something urgent to get answer.
You may submit your inquiry through the online inquiry forms.
We will contact with you after we are back office.
We apologize for the inconvenience this may take and thank you for your understanding.
PalletMach wishes you and your families all the best and happy every day!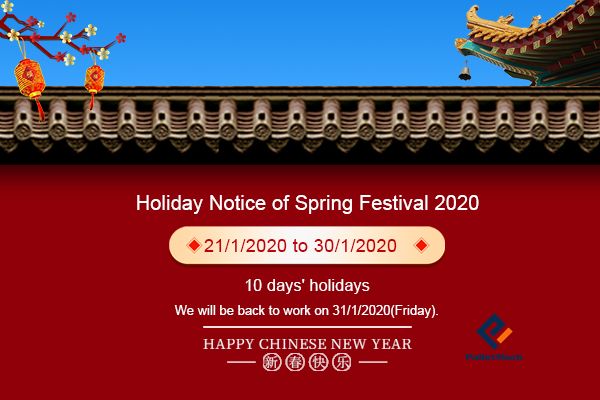 2020 Chinese New Year falls on January 25th. It is the Year of the Rat according to Chinese zodiac. It is a great chance to experience the folk customs!
Chinese New Year, also called Spring Festival, has more than 4,000 years of history. It is the grandest and the most important annual event for Chinese people. Being one of the traditional festivals, it is the time for the whole families to reunite together, which is similar with Christmas Day to the westerners.
Chinese New Year takes place on a different date every year, because it is based on the lunar calendar.
In this calendar a month is two days shorter than in the solar calendar so to make up for it an extra month is added every few years.
The lunar calendar means the celebration always falls on a different date - unlike the January 1 New Year we are used to, based on the Gregorian calendar.
But Chinese New Year always falls between the end of January and mid-February.
Each year is denoted by a different symbol from the Chinese 12 year animal zodiac, with this year being matched to the first sign. This year is the Year of the Rat.
Rats are clever, quick thinkers; successful, but content with living a quiet and peaceful life. PalletMach all staffs wish you and your families Happy Chinese New Year! Kung Hey Fat Choy!
Get Support & Quotation