Our Clients from Bulgaria Planned to Buy Compressed Wood Pallet Machine
Our clients from Bulgaria planned to buy compressed wood pallet machine. And they visited PalletMach automatic compressed wood pallet machine factory on 19th November, 2018. They also had a nice visit and a good day.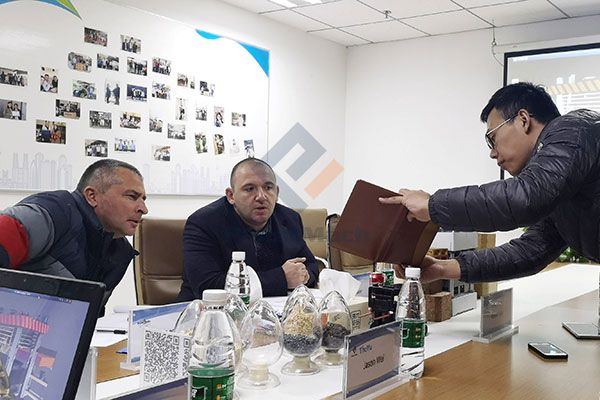 The company of Bulgarian clients involve the industry of biomass pellet. But they also want to produce their own compressed wood pallets. Besides, they also planned to buy compressed wood pallet machines. At the same time, they have abundant raw materials for compressed wood pallets. At present, their factory has the complete production equipment. And there is also sufficient surplus production capacity. So they want to make full use of the existing production equipment. Then, compressed wood pallet project is the best choice. Since, the production line of compressed wood pallets and biomass pellets can share the same equipment, the moulded wood pallet project becomes the optimum consideration.
The Bulgarian customers are satisfied with the performance of automatic compressed wood pallet production line after testing them. And they also spoke highly of the working conditions, and the equipment construction. Meanwhile, we also introduced compressed wood pallet machines to our Bulgarians clients in detail.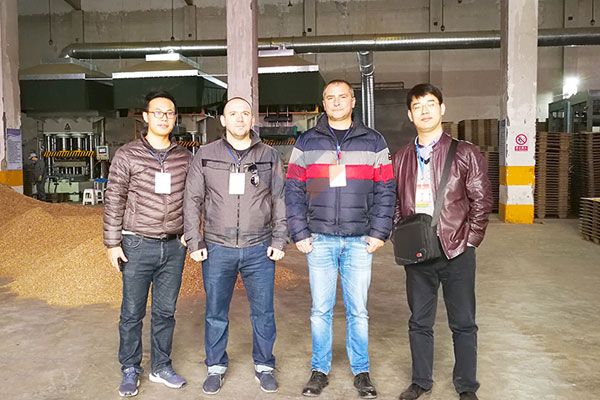 Currently we are still discussing with the customer on automatic compressed wood pallet production line. And the project of automatic compressed wood pallet production line is in progress.
Our advantages of compressed wood pallet machine
1. Reasonable structure.
Compressed wood pallet machine adopts the three-beam four-column structure with good strength, rigidity and precision retaining ability. And the four column guide device assures the precision of closing moulds and the stability of pressing during the working of press machine.
2. High durability.
The raw materials of the pressing machine are all the durable materials, to minimize maintenance of the machine. The upper mold is integrated with the "Sliding beam", which doubles the strength, stability and precision.
3. High capacity.
The capacity of press wood pallet machine is much higher than the traditional one, and it is more economical of large capacity. And the capacity can up to 180 pallets 24 hours.
PalletMach is the leading manufacturer of compressed wood pallet machine in China. And our clients are from Italy, Mexico, Russia, Ukraine, Brazil, France, Finland, Poland, Greece, Romania, Tunisia, South Africa, and so on.
PalletMach is eagerly awaiting your visit. If you have any question, please contact us via email sales@palletmach.com.
Get Support & Quotation