What are the features of wood pallet produced by wood pallet machine?
Wood pallet machine is designed to produce wood pallet, and also is the superior product of Shanghai Pallet Machinery, professional wood pallet machine manufacturer in China.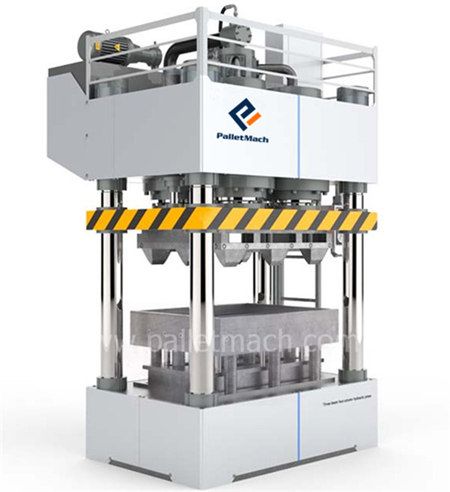 The following is the features of wood pallet produced by wood pallet machine.
Low moisture content. The moisture content is general between 6% to 8%, so that wood pallet is non-hygroscopic and no deformation in the course of.
Stable dimension and no distortion and warping.
High precision size. It is specifically designed reinforcing rib that ensures the intensity and production accuracy.
Constant intensity and rigidity. It eliminates the natural defects of wood itself in the molding process, and the intensity of the product is larger than the traditional wood pallet.
Light weight. The weight of wood pallet is lighter 50% than pallet made of hard broad-leaf solid wood.
Rounded design to prevent goods damage in the packaging and transportation process. Automatically bundled operations, and saving operating time.
Stacking type. A lot of pallets can be stacked together and the height of the 50 pieces of pallets is about 7 feet. Static load is 10 times than the dynamic load. Wood pallet can be shovel from the four sides with the forklift.
Free fumigation and popular in the import and export transportation.
Low cost of raw materials, such as wood processing residues, waste wood and low grade wood.
Environmentally friendly, recyclable, reusable, and low pollution. The recovery rate is up to 100%.
Low price. The price of wood pallet is cheaper than traditional coniferous or broadleaf pallet.
The use of environmentally friendly urea-formaldehyde resin as adhesive to press molding.
Maximum carrying capacity is up to 2500kg or more.
Saving space. Wood pallet is saving space more 3/4 than the traditional pallet as the same number. Forklift can carry 60 pieces of wood pallets at one time, while traditional pallet only 18-20 pieces.
Long service time. The service time of wood pallet is longer than traditional pallet. When recycled at the end of service life, the life cycle of the wood pallet does not end.
More information about wood pallet machine, please contact us.
Shanghai Pallet Machinery Co., Ltd
Contact: 0086 18521590671
Web: https://www.palletmach.com/
Email: sales@palletmach.com
Get Support & Quotation