Pallet is the horizontal platform device for the loading, stacking, and transporting of goods and products as unit loads. As similar to the container, pallet is now widely used in the fields of production, transportation, warehousing and circulation, and is considered one of the two key innovations in the logistics industry in the 20th century (The other is the container, especially marine container).
Pallet plays a huge role in modern logistics industry, supporting the use of forklifts, as the important loading and unloading, storage and transportation equipment in the logistics operation.
The benefits of pallet to the modern logistics industry are mainly reflected in achieving the unit, normalization and standardization of packaging, to protect the goods, and to facilitate the logistics and business. Pallet is also known as skid, or plywood.
Pallets are sorted two kinds according to the role, one for the daily oral tray, where the bowls and the dishes placed. The other is the pallet for logistics. As a daily tray, put some dishes and so on.
There are many types of pallets for logistics, according to the material, application, countertops, fork way of forklift and structure. The application of pallet is wider and wider, because of high efficiency, security and stability, especially in some occasions where require rapid operation.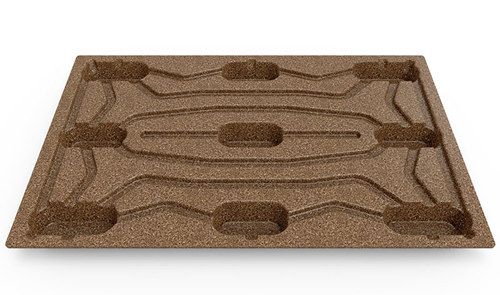 Applition of pallet
Pallet is a medium that converts static goods into dynamic goods, which is an active cargo platform, or a movable ground. The goods will immediately get the activity as flexible mobile goods, once loaded with the pallet, even if the goods on the ground losing the flexibility. That is, the goods loaded on the pallet are in a state of readiness to move into motion at any time. This kind of the dynamic loading and unloading method takes pallets as the basic tool, called the pallet operation.
What are pallet operations?
Pallet operations can significantly improve the handling effect, and the implement of pallet operation has changed the form of warehouse construction, ship structure, loading and unloading facilities and management organizations of railway and other transport modes. Pallet operations promote the standardization and modularization of goods packaging. What's more, pallet operations will have a significant impact on the general production activities even in addition to the loading and unloading. It becomes more and more important that the operation between the processes and the supply of materials and semi-finished products to the production line, as production equipment becomes more sophisticated, the degree of automation is getting higher and higher, the planning of production is getting stronger and the management method is more and more advanced.
In summary, pallet operation is an effective means of rapidly improving the transport efficiency and ordering the flow of materials, which plays a significant role in reducing production costs and improving production efficiency.
More infromation about pallet, please contact us.
Shanghai Pallet Machinery Co., Ltd
Contact: 0086 18521590671
Web: https://www.palletmach.com/
Email: [email protected]
Get Support & Quotation