Iranian Customer Visited Our Presswood Pallet Making Machine Factory in June
Iranian customer, Mr. Mozaffar Lotfi and his partner, visited our presswood pallet making machine factory in June. He came from Iran. And he owns the matches factory in Iran. So he has all the secondary machines, like crusher, dryer, and glue mixer machine. He only needs the presswood pallet making machine. Firstly we took Iranian customer to see the dryer and crusher for reference. Then we talked about the price and details of presswood pallet making machine in our factory.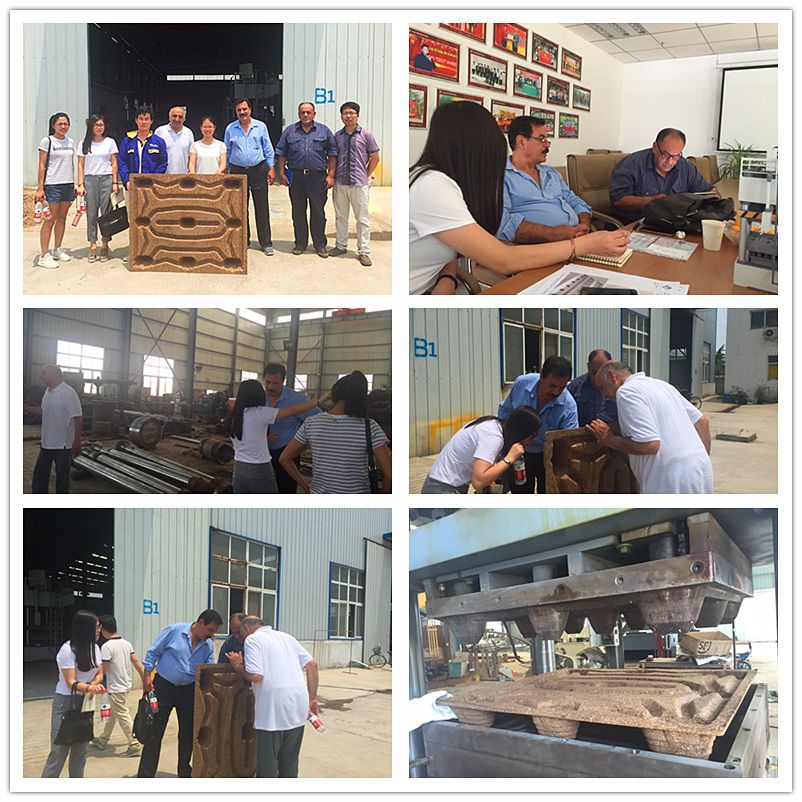 After testing presswood pallet making machine in our factory, Iranian customer was more familiar with our machine. And he thinks our machine was not only in good working condition, but also in nice appearance.
At last, Iranian customer has made the order for one press machine and one set of extra mould. And we are all looking forward to long term cooperation in the future.
Presswood pallet making machine is the featured production of Shanghai Pallet Machinery. And the final presswood pallets actually cost less than traditional pallets. The following is the characteristics of final presswood pallets.
1. Cost effective
Presswood pallets give the customers an economical alternative to wooden stringers and expensive plastic pallets.
2. Light-weight and durable
Presswood pallet is 60% lighter than traditional pallet, and is durable enough to be reused and recyclable yet inexpensive.
3. Nestable design
Presswood pallets provide great space savings both in the warehouse and in transportation.
4. Fumigation free
High heat and high press manufacturing process used to create presswood pallets insect resistant. So it is not necessary that additional treatment for overseas shipping.
5. One-piece design
Having no nails or staples helps reduce product and package damage. In addition, there are no burrs to help reduce labor injuries.
PalletMach is one of the famous presswood pallet making machine manufacturers in China. And we have more than 15 years manufacturing experience. Hence, we have got great reputation from the customers all over the world. More information, please contact us.
Shanghai Pallet Machinery Co., Ltd
Contact: 0086 18521590671
Web: https://www.palletmach.com/
Email: sales@palletmach.com
Get Support & Quotation