Australian Customers Toured PalletMach Pressed Wood Pallet Project Factory
Australian customers toured PalletMach wood pallet project factory on 19th October, 2018.
The customers from Australia are very satisfied with the performance of the pressed wood pallet machines after testing them. And they also spoke highly of the working conditions, and the machine construction. Besides, they praised the final pressed wood pallets.
We had discussed with the customers on the whole project of moulded wood pallets and pressed plastic pallets.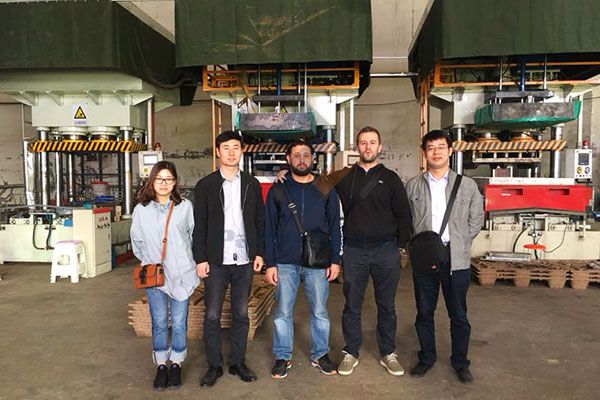 Pressed wood pallets are more and more popular all over the world. Not merely because the features of presswood pallets, but they are made of wood waste. And wood pallet machine can turn wood waste into new pressed pallets. Meantime, it is the ideal equipment for recycling waste wood. So wood pallet machine can help to protect our environment. Our hot wood pallet project has competitive advantages. They are low investment, nice appearance, precise structure, stable working ability, and so on.
Our Australian customers want to produce the pressed wood pallets, moulded plastic pallets and pressed pallet blocks. And the customers from Australia are running the company that waste sorting and recycling. At present, they are looking for the plan that disposing these recycled products. Besides, they have a mass of waste woods and plastics as the raw materials. So our wood pallet machine can produce high-quality pallets to meet the customer's needs. In addition, Our Australian customers are very interested in our pressed wood pallet production.
Advantages of pressed wood pallet project:
1. Low investment
The raw materials for pressed wood pallet project are very cheap, even for free. A great deal of raw materials are suitable for producing presswood pallets, such as wood chips, wood leftover materials, wood scraps and so on. Therefore, the investment of the whole pressed wood pallet project is lower than the traditional wooden pallet.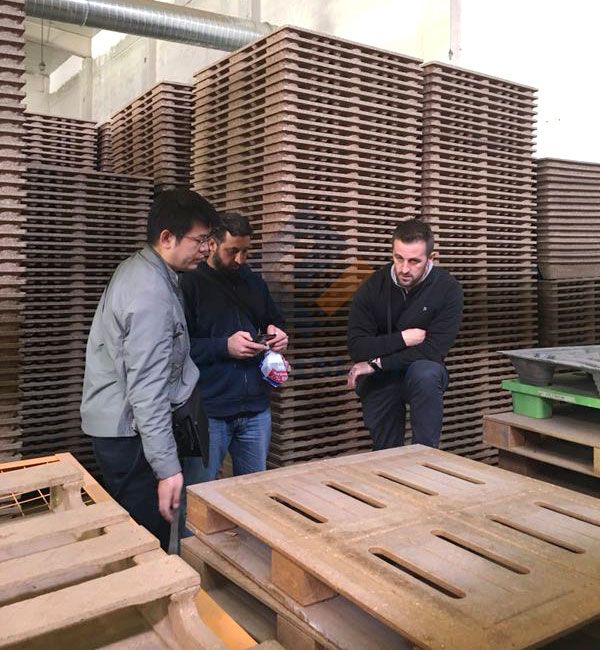 2. High durability.
All the machines of pressed wood pallet project are wood crusher, rotary drum wood dryer, pressed wood pallet machine, and other supporting equipment. And they are all made from the durable materials. Thus, they can reduce the maintenance costs and longer the service life of all the machines.
3. High automation.
The whole pressed wood pallet project can achieve all the process automatically controlled by PLC system. And all the production date can be record and recall. Meanwhile, it also can reduce the labor cost of all the pallet project.
Features of the final pressed wood pallet
1. Saving space
Pressed wood pallets of the same size can be stacked together and easily separated by a forklift. And the pressed pallet saves space up to 70%. For example, the height of 50 pieces of nestable pallets is about 2.37 meters. The bottom of the pallets is designed to meet the international standards and is suitable for the standardization operation of international manual and automatic forklifts.
2. Light weight
Pressed wood pallets are 60% lighter than the traditional wooden pallets, but with the same load capacity.
3. Safe and reliable
Presswood pallet is one-piece design with no nails or other impurities, effectively reducing damage to the goods and packaging. The absence of burrs and burrs also reduces injuries to people.
4. Environmental friendly
The molded pallets are the resource-friendly product, and are also wood recycling product.
Characteristics of pressed pallet blocks
1. Strong bearing capacity, no deformation and can be reused.
2. Pallet blocks are free fumigation and free quarantine.
3. Blocks are insect prevention, protection against termites and do not easy to burn.
4. Final pressed pallet blocks are smooth surface and uniform size, and more beautiful compared with plywood block.
5. The mould of pressed pallet block size can be customized. Size range from 70 mm to 145 mm and 90*90 mm, and 100*100 mm are the common style.
Thanks for our Australian customer's trust and support. PalletMach also wish that all customers can get more from pallet business.
Get Support & Quotation